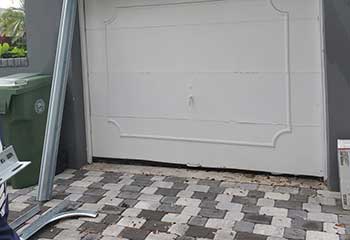 Garage Door Off Track
Customer Issue: The customer's garage door tracks had some loose screws, which eventually led to some of the bottom rollers on that side slipping out.
Our Solution: Luckily, the garage door itself was in good condition, as were the rollers and tracks. We raised the door, had the customer get his car out of the way, and then lifted it off its tracks entirely. Tightened and leveled the tracks, reinstalled the door, and problem solved! Testing the garage door back in its tracks revealed no wobble or rattling.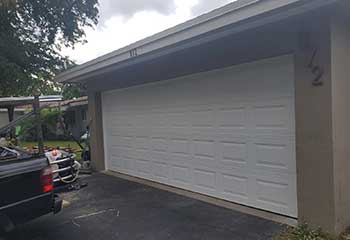 Garage Door Installation
Customer Issue: The customer's garage door was old and falling apart, and he needed a replacement. Preferably a cheap one.
Our Solution: We removed the old garage door down to the tracks, cleaned the entrance frame, and got started on the replacement! The centerpiece of this garage door installation was a Raynor AP200 steel door with an imitation wooden finish. With an inexpensive Genie 1035-V in the opener bracket, this new garage door system worked like a dream!