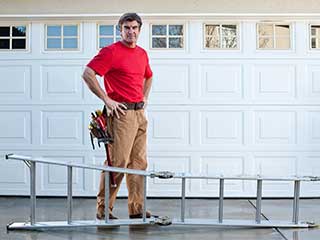 It's essential to look after your garage door; it will wear out over time, and without regular maintenance small problems can develop into major issues. Our technicians are thoroughly trained to recognize the underlying problems which many doors develop, and can quickly diagnose faults with your system.
Ongoing Upkeep Services
Some of the most common problems that arise with garage doors can be traced back to minor wear and tear issues; moving parts getting out of alignment, running out of lubricant, working their way loose or simply wearing out. These problems can be quickly resolved by a trained professional, but if they're left unchecked they can quickly become much harder to fix.
Catch Issues Early
Our professional engineers are highly experienced and able to quickly assess the condition of your garage door system. They'll diagnose what components must be addressed, and what fixes are most appropriate to keep your door in an optimal condition, from adjustment and lubrication to recalibration and replacement. This regular maintenance is often required as part of your garage door's warranty guarantee, and as such should be considered a necessary regular procedure.
Avoid Common Issues
Our engineers will make sure that each component in your garage door is performing properly, and will closely inspect the door's pulleys, cables, roller and springs for signs of wear. They'll also examine the electrical systems; safety sensors, motors and remotes which can degrade with time. By assessing each part of your garage door, our technicians will determine what needs to be done to keep your door in a perfect working order.
Keep Your Door Running
You need to know that you can rely on your garage door, and one that squeaks and rattles its way along the tracks doesn't inspire much confidence. Contact our experts at Garage Door Repair Atlanta today to find out how we can keep your door running smoothly day in, day out.
When it comes to your door, we don't settle! We also offer:
Garage Door Tune Up Services
Screw Drive Opener Replacement
Garage Door Extension Spring Replacement
Garage Door Off Track Repair