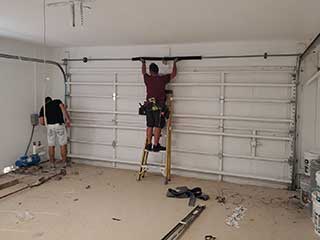 Any issue that affects the way your garage door moves can cause serious disruptions to your day. If you've got plans, a scheduled appointment, or some work you need to get to, the garage door not working all of a sudden creates a huge problem. And that's why you need to know which nearby repairmen to contact. Well, Garage Door Repair Atlanta offers you the fastest solutions day in and day out. With our emergency repair services for garage doors in the local area, you always get an immediate solution to any unexpected problem.
Can You Replace Broken Springs?
But of course! Broken garage door springs are probably the most common of the issues we get called for. Considering how crucial a role they play, it's not surprising. The garage door springs counterbalance the weight of the panels. So when they break, your door no longer has the support it's used to. That means it becomes suddenly a lot more heavy than usual. We recommend that you don't try to open a garage door with broken springs. While it can be possible, you'll only cause damage to the opener, cables, and other parts, which could mean more expensive repairs later. For broken spring replacement for Atlanta area garage doors, you can reach out to us to get a quick fix anytime.
Track Repairs and Roller Replacement
Problems that involve the tracks can often occur due to misalignment, rust, or other damage. The roller popping out of your garage door tracks means that there's bending or some obstruction forcing it out. With track misalignment, your garage door can get stuck, which is a bad problem to have if you're in a hurry. Our same-day garage door repair services near Atlanta ensure a quick solution in either case. We come ready with new rollers too, in case you need garage door part replacement.
Fixing Garage Door Openers
Many different problems can involve the opener of your automatic garage door. It uses a mechanical drive system to move the door, and an electric logic board to connect different wires and the remote transceiver. The point is, finding the root of the problem can be difficult. That is, without experience and expertise. Luckily, our Atlanta garage door opener troubleshooting technicians have both of those in spades. We offer same-day opener repairs for anything from broken gears to frayed wires and even trolley problems. If your garage door opener isn't working for whatever reason, our local professionals will find a quick fix for it on the same day you call.
Garage Door Repairmen in Atlanta At Your Service
When you need help fast, it's a good idea to go local. Our experts guarantee same-day solutions for any problem involving broken springs, a cable off the drum, bent garage door tracks, and much, much more. You'll find our fast and affordable services available at a moment's notice, on a daily basis. Looking for the best garage door repairs near your area? Atlanta and other closeby regions have a solution! Call anytime for the quickest and cheapest repairs!